You've entered the
grooviest
web page around!

The
RABBIT
HUTCH!
---
Rabbit Hutch
Links:
Dibny Dirt
Fanzing
WAVe Page
Resume
Comic Relief
Stan Freberg
Links
Democrat Quiz
Martians
Chocolate
Max, my kittie!
"A mail order of fresh horse meat of Kumamoto"
---

Arachnophilia
web design program.
---
---
Mile High
Last modified 10/24/99

LinkExchange Member
The
RABBIT
HUTCH!

The Home Page of
Award-Winning Creative Writer
Michael "Rabbit" Hutchison
---


WHAT'S NEW!
Would you like a good laugh? This is one of the funniest things I've read in a long time...and the humor is completely unintentional! I guess it loses something in the translation! You'll laugh til you hurt when you read "A mail order of fresh horse meat of Kumamoto"
I'm the Editor of Fanzing, now located at www.fanzing.com

---
Who is the Rabbit?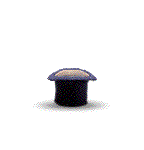 I'm actually Michael "Rabbit" Hutchison, and I moved to the Twin Cities area in October of 1996. I'm a creative writer, actor, comedian, voice artist and all-around fun guy! I came here to study filmmaking and screenwriting, but I didn't have the cash for classes until recently. Sadly, all film classes were full, so I'm writing on my own until January of '98. I suffer from "Kane Comparison Syndrome;" every time I think about studying film I remind myself that I'm already older than Orson Welles was when he made the greatest movie of all time!

Prior to 1996, I was a an advertising copywriter at 94.7 WOFM, the "Oldies" station in Wausau, Wisconsin. In my lightless dungeon, I created ads, oversaw their production and frequently contributed character voices. As a devotee of veteran funny adman Stan Freberg, I felt a calling to try to change radio advertising from the loud, boring, monotonous drone of "dependable, friendly, quality service at our four locations...". As you can still hear spots like that on the radio, you can tell I wasn't totally successful!

Of my four Addy Award-winning radio spots, the most recent one, "Not Quite Hans & Franz" for Sherfinski and Zahn, won a Regional Addy award and advanced to the District Addies. There it competed against spots from Wisconsin, Minnesota and both Dakotas, receiving a Citation of Excellence. Not bad, especially since no spot won an Addy in our category.

Currently, for fun, I sometimes write plots for the Internet Movie Database.
Want to read them?